Registration time & competition shedule
Ahletes need to registrate and pay online till May 12th.
Physical registration will be 2022-05-14 12:00-15:00, at Radisson Hotel Kaunas, Donelaičio str. 27, Kaunas
Venue for the competition: 2022-05-15, 10:00 Kovo 11-osios str. 26, Kaunas.
Athletes entry to the venue will be from Kovo 11-osios str., downstairs (entry will be marked).
Trainers who want to get to the backstage should buy trainer pass during physical registration. Price 20 Eur. Trainer pass + ticket 35 Eur.
Categories shedule
Men's Classic Physique
Women's Figure
Men's Bodybuilding
Women's Bikini
Men's Physique
Women's Wellness
Detailed classes & categories shedule:
MEN'S CLASSIC PHYSIQUE
True Novice
Masters 35+
Open Class A
Open Class B
WOMEN'S FIGURE
Open
MEN'S BODYBUILDING
True Novice
Junior
Masters 40+
Masters 50+
Open Bantamweight
Open Lightweight
Open Light Heavyweight
Open Heavyweight
WOMEN'S BIKINI
True Novice
Open Class A
Open Class B
Open Class C
MEN'S PHYSIQUE
True Novice
Open Class A
Open Class B
WOMEN'S WELLNESS

True Novice
Open class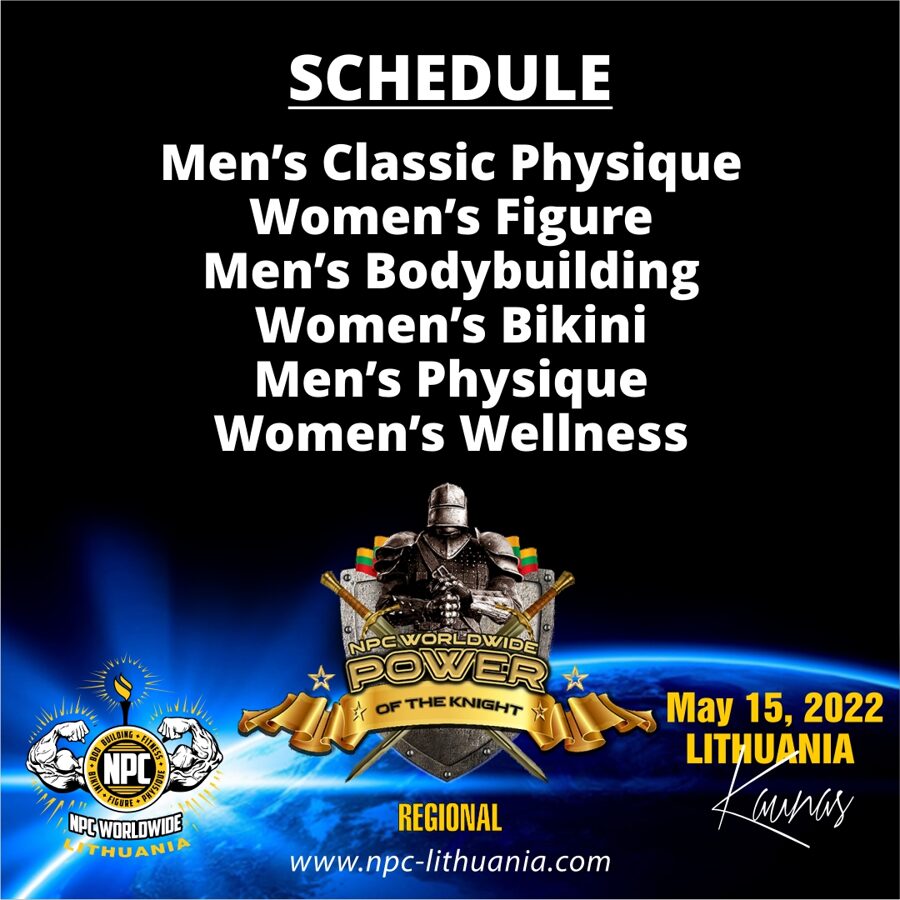 No comments
Leave a reply